Top 5 Food Delivery Apps in the UAE and Steps to Launch One
Quick Summary: The food industry in the UAE is constantly evolving, and the rise of innovative food delivery app startups has been incredible. For entrepreneurs looking to enter the world of food delivery in the UAE, it is essential to know the major players in the market. This blog will list the top 5 food delivery apps in UAE and how you can launch your own.
Dubai's obsession with food is not a well-kept secret. People are obsessed with food, and they're not to blame. The food in Dubai is toothsome. With irresistible delicacies like Harees and Madrooba, it's hard not to be foody around here. And the thriving food delivery market in Dubai is a testament to that.
According to a report by Statista, the revenue of the food delivery market in Dubai is expected to grow at a CAGR of 14.90%, contributing to a projected market volume of $3.36 billion by the end of 2027.
Building a food delivery app in the UAE may seem exciting, but remember that it requires a clear understanding and planning. One way to begin is by looking at the top players in the market.
That's why we decided to curate a list of top food delivery app startups in UAE so that you can learn what they did differently to survive the cutthroat competition.
Table of Contents
Top 5 Food Delivery Apps in UAE
Whatever your food delivery app idea might be in the UAE, you can gain important insights from the following leading apps. Each app prioritizes customer satisfaction by providing them with an engaging and easy-to-use platform.
1. Careem Now

Careem is one of the best food delivery apps in Dubai. Careem started as a ride-hailing service in 2012 but expanded to include food, grocery delivery, and online payments. Offering scrumptious delicacies from thousands of restaurants across Dubai, the platform processes most online food delivery orders in Dubai.
The app has over 50 million registered customers. With 4.3 star ratings and over 1.3 million reviews, Careem has seen a drastic increase in popularity. The app provides an engaging UI/UX to make it easy for its users to navigate and place orders.
Top Features of Careem
Wide restaurant selection.
Easy food ordering.
Real-time order tracking.
Secure and fast payments.
Dynamic search options.
Want to know more about how Careem made it big? Check out our in-depth guide explaining Careem's Business Model
2. Talabat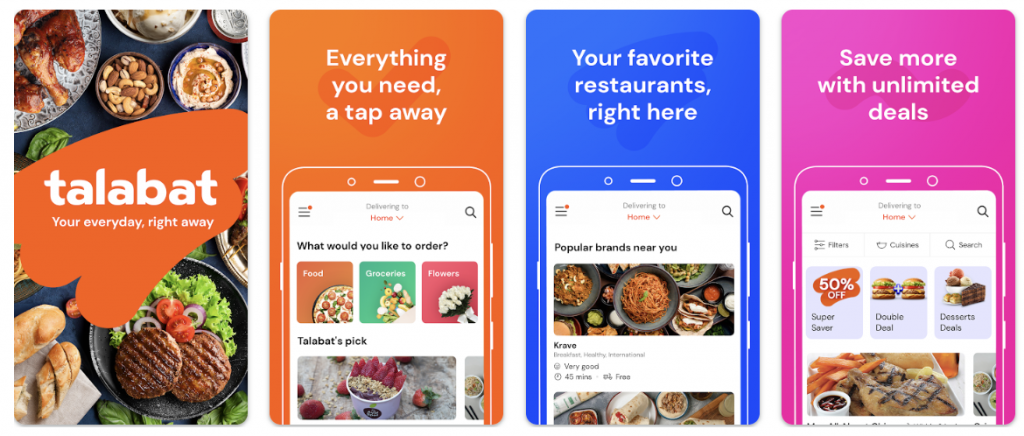 Talabat is a leading online food delivery platform based in Dubai, offering a diverse array of dining options from local restaurants. The app offers a wide selection of cuisines, including Middle Eastern, Asian, European, and American. Talabat was founded in Kuwait in 2004, and since then it has spread its wings to several other countries in the Middle East, including Dubai, Bahrain, Oman, Qatar, and Saudi Arabia. Talabat's popularity among the Emiratis is the result of its pocket-friendly delivery charges and the variety of restaurants and cuisines it offers.
According to a report, Talabat has completed over 100 million orders and 100+ million app downloads with over 70,000+ restaurant partners.
Top Features of Talabat
Personalized suggestions based on order history.
Wide restaurant selection.
Various payment options.
Easy and hassle-free order placing.
Offers and discounts.


3. Deliveroo
Deliveroo is one of the most widely used food delivery apps in Dubai, offering a gateway to thousands of local, national, and international cuisines spread across hundreds, if not thousands of restaurants. The app was founded back in 2014, and since its inception, it has expanded to 200 locations across the globe including the UK, Singapore, Hong Kong, Australia, Europe, and UAE. It is a popular choice in Dubai thanks to its pocket-friendly delivery charges and less waiting time.
Since its launch, the brand has registered 1,60,000 restaurants and grocery partners, ensuring their users are never out of choice. The platform is passionate about enhancing its services by using the latest tech stack.
Top Feature of Deliveroo
A wide range of food selection
Convenient payment options
Rewards program
Scheduled deliveries
Promotions and discounts
4. Noon Food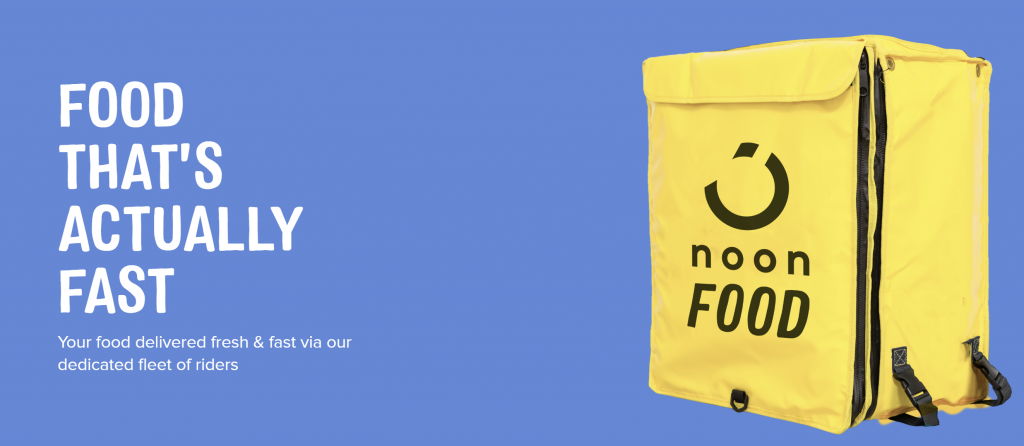 Another widely used food delivery app in the UAE is Noon Food. The app started with a bang and acquired a chunk of the market by offering all customers a straight 50% off on the first order. The platform offers a simple user interface and flexible payment options, making it a convenient choice for users.
The app has over 10 million downloads with an average rating of 4.2 stars. The aim gained popularity from a unique feature- good morning mode that allows customers to deliver the food between 5 AM and 9 AM. This platform aims to provide a great taste at a lower fee. It also focuses on enhancing the food delivery process by partnering with various delivery partners.
Top Features of Noon Food
Good morning mode.
Secure and convenient payment.
R4eal-time order tracking.
Excellent customer support.
Noon one subscription.
5. Eat Easy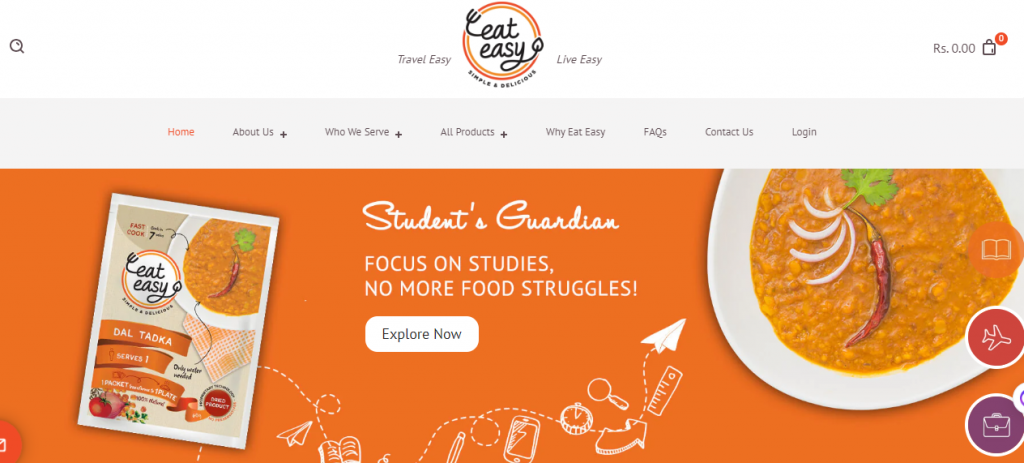 Eat Easy is a different online food delivery model based in the UAE. Rather than connecting local restaurants with customers, Eat Easy provides ready-to-cook dehydrated Indian vegetarian meals. The app was founded in 2021 and is headquartered in Dubai.
Eat Easy has over 10,000 customers and provides easy-to-make and travel-friendly food. It delivers its services to most areas in the UAE, giving a pure Indian taste to its users. Food lovers can make the payment through various trusted sources.
Top features of Eat Easy
Ready-to-cook dehydrated Indian vegetarian meals
Convenient delivery
Flexible payment options
Affordable prices
Easy to use
Want to launch your food delivery app and take your brand to the new heights? Check our guide: A Quick Guide For Food Delivery App Development
Steps to Launch a Successful Food Delivery App in the UAE
Now that you know the top food delivery app startups in the UAE and have decided to build your own brand, you need to plan it strategically. Follow the steps below to develop a food delivery app that helps you take the lead.
1. Market Research
As mentioned earlier, taking a deep look at the market is the first step towards food delivery app development. You must know about the top competitors and their strategies. Further, looking at the target market and their demands and preferences is equally crucial.
2. Define the App Features
Once you know what your audience wants, you must pick the top features for the app that will provide the exact solutions to your customers. We have mentioned the top features you must include in the section below.
3. Design the User Interface
One common aspect of the top food delivery apps is that they all provide an engaging design. It helps them attract customers and retain them for a more extended time. So, create an appealing and user-friendly UI/UX design for the app.
4. Develop the Food Delivery App
After you have decided on the features and design, it's time to create the app. Choose the right tech stack and hire the right food delivery app development company. It's essential to ensure that you develop an app that is easy to use and navigate.
5. Integrate APIs
Next, integrate the app with payment gateways, map providers, and other needed APIs. These integrations will guarantee secure and fast payments, quick deliveries, and accurate location tracking.
6. Test and Launch the App
Before launching the food delivery app, you must test the app to check if all the features and functionalities work well. You can experiment with a small group of people. Once thorough testing is done, you can publish your app on the App Store and Play Store.
Features Behind the Success of These Food Delivery Apps in UAE
There's a reason why these businesses have thrived despite stiff competition: they have strategically targeted the new-age customers and offered them exactly what they crave: convenience.
Having a food delivery app changes many things for a food business. First of all, it instantly magnifies a business's reach. As digital natives, our smartphones are an extension of our bodies; we carry them 24/7 everywhere we go and spend most of our time on them. So, it's only natural for food delivery businesses to engage their customers at the very core of their interests, and that's why having an app helps.
Further, these top food delivery apps include various crucial features that make the application very useful for customers. Some of the critical features to consider for launching your food delivery app in the UAE are:
1. User Registration and Authentication
The first thing every user expects from the app is easy and quick registration. Allow your app users to create an account and log in to the application using their email, phone number, or social media accounts.
2. Menu Browsing and Search
The next feature is to allow users to browse and search. They should have filter options based on cuisine, location, price, and dietary restrictions in order to find the perfect food quickly.
3. Order Placement and Customization
Who doesn't like customized food? Enable your users to select items from the restaurant menu and customize their orders. For instance, they can add extra toppings, specify cooking instructions, and choose portion sizes.
4. Secure Payment Integration
Secure online payments are among the most important factors to consider, as you do not want to lose your users. Hence, implement a safe and convenient payment gateway supporting various payment methods like credit/debit cards, mobile wallets, and cash on delivery.
5. Real-Time Order Tracking
This feature makes the food delivery app even more engaging. Integrate order tracking functionality to let users track the progress of their food delivery in real time. It further provides transparency and builds trust, giving the users the estimated delivery time and tracking the delivery person's location on a map.
6. Ratings and Reviews
Enable the users to give ratings and reviews for restaurants and delivery services. It will help them make informed decisions and provide valuable feedback to restaurants and the app platform.
Comments:
Sign in to post